Welcome to our Pro Wordle Solver: Solvle! It is the first and only app that can solve Wordle puzzles and provide word tips without typing. Here's how it works:
(If you prefer, you can still use the original Wordle solver)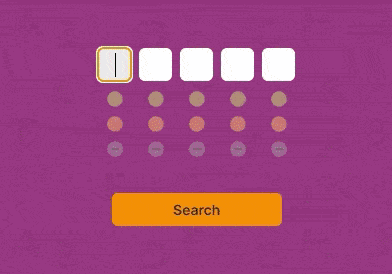 WORDLE SOLVER INSTRUCTIONS
1) Start by choosing one of the starter words in the yellow buttons. Or, if you've already played a word in Solvle, you can type it in manually as well.
2) Play the selected word in Wordle. The game will tell you which letters are green, yellow, or gray. Press the colorful buttons under each letter in our solver tool to match what you see in the game.
Green letter meaning: The letter is correct, and in the correct location.
Yellow letter meaning: The letter is correct, but in the wrong location.
Gray letter meaning: The letter is not part of the word for which you seek.
3) Press Search. You will be taken to a list of possible words you can play next. Tap one of the words, and we'll fill everything in for you up top.
4) Repeat Step 2 using your new word. Play the word in Wordle, set any new letter colors, and press Search.
5) When you've completed the puzzle, you can start over by tapping the Eraser Button. Doing so clears the board, resets the guess history, and presents you with your starter words again.
Notes for advanced players:
Solvle remembers your guess history. If a yellow letter was in a different place before, it will be remembered for future Wordle hints and provide optimal solutions. Remember to clear the guess history with the Eraser Button before you start a new Wordle hint.
Solvle automatically adds and removes gray letters for you. You can remove or add them manually by typing into the Known Wrong Letters text field, if you need to.
Solve supports all Wordle games, up to twelve letters long! Use the Word Size dropdown to add spaces.
---
WHAT IS THE BEST WORD TO START WITH IN WORDLE?
TRACE, according to 3Blue1Brown using Information Theory to find out. Our solver tool lets you start with many of the best words with a single click, chosen mathematically to be better in certain ways than the other possible words. Try them all!
The full answer is more complicated. The best non-word to use is SALET, if your Wordle game allows you to start with it. Other mathematicians have come up with many more ways to judge the best starting word. You will often find OATER and ORATE suggested, and they very well might work better for you depending on which valid words you naturally tend to pick as you play. The New York Times Wordle Bot recommends CRANE and DEALT based on its own set of criteria.
The truth is, your initial starting word is important, but it's not that important. A skilled player can start with a random word generator and do well. You would have to have a mathematically perfect second and third guess to follow your first one in order to see a difference. Even then, the official Wordle answer list is curated by a human. Your Wordle answer is much more likely to be a word you've heard before, rather than some obscure mathematically perfect guess designed to narrow down the possibilities.
For this, our Wordle word finder has a special Best Words To Use section that shows up every time you press Search. Tap the Unlock button to reveal a handful of valid words chosen by our exclusive algorithm to be the most likely picks for any individual search. It is incredibly powerful!
You can also learn how to make better guesses as you play. Early on, it is better to choose words without repeating letters. The more you can learn from each letter you choose, the closer you will be to your answer. For example, BASER will tell you more than BASES, because you can confirm or eliminate more letters at once.
It's worth knowing which letters appear the most in the Wordle answer list of 2309 possible words. They are E (1229), A (974), R (896), O (752), and T (728). This is why OATER and ORATE are considered good starting words, as they are anagrams of those top letters (verify this in any word unscrambler, like those made for the Scrabble board game!). You can get lucky and eliminate many of these letters, but you can also get rather unlucky if your word contains most of them.
Additionally, many five-letter words in English have common endings, which you can eliminate quickly from consideration. Placing an E in the fourth space, for instance, can tell you a lot (xxxER, xxxED, xxxES).
Finally, while you can type any word into our Wordle solver, the game itself only accepts real words from its internal list. You can't just hope to turn random letters into words. Bad words are not permitted.
---
HOW TO PLAY WORDLE
Guess the word - any word! Each time you guess wrong, Wordle will tell you which letters you got right.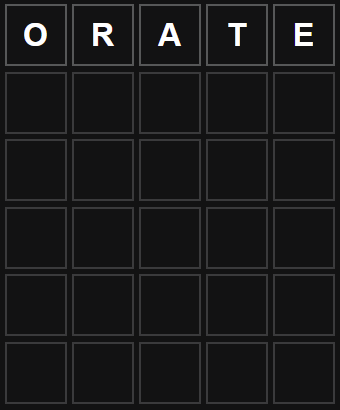 When you play the word, Wordle tells you which letters you got correct - green, or yellow (see below).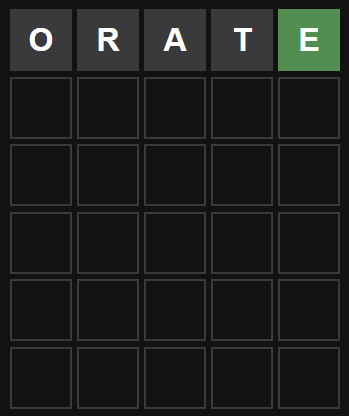 Make your next guess. Keep your green letters where they are. Make sure your yellow letters are in your new guess, but move them around to different spots.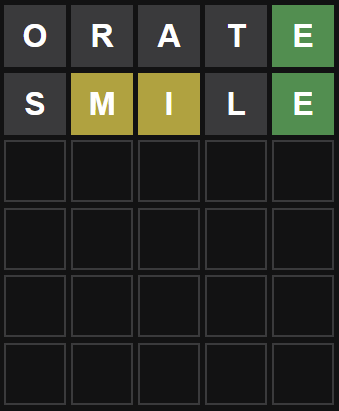 If you get stuck, this website offers numerous Wordle tips and tricks.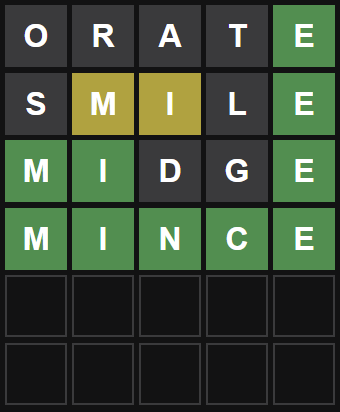 Wordle colors - Green letters after each guess means you got the correct letter. Even better, you guessed it at the correct place in the Wordle word. Yellow means you still got it right, but that letter is somewhere else in the word. If the game gives you a gray letter, it means that letter is nowhere to be found in the word. Do not use gray letters in your remaining attempts.
---
Frequently Asked Questions (Wordle FAQ)
WHERE DO I GET WORDLE?
The official and still the best Wordle game is at the New York Times Wordle page.
HOW DO I DOWNLOAD WORDLE TO AN ANDROID PHONE?
You can install the Wordle website to your phone as an app. From Chrome, tap Add to Home Screen from the overflow menu (three dots in the top right). Your phone will download the website files for faster loading, though you may still have to be online to get the latest word. As of this writing, you can play Wordle offline via this method.
HOW TO INSTALL WORDLE ON YOUR iPHONE
You can install the Wordle website to your iphone as an app too. In Safari, tap the Share button at the bottom, then Add to Home Screen. Your phone will download the website files for faster loading, though you may have to be online to get the latest word. As of this writing, you can play Wordle offline via this method.
IS WORDLE FREE ONLINE?
Yes! Wordle was purchased by the New York Times and is hosted there free of charge.
WHAT IS THE BEST WORDLE APP?
hello wordl. We at WordCheats are fans of Hello Wordl. It has great keyboard support and is generally a better designed version of the base game. That said, it's still worth playing the original over at the New York Times. Much of the fun and virality of Wordle when it came out had to do with everyone around the world solving the same daily puzzle game once a day. Everything in moderation, as they say!
IS WORDLE AN APP OR A WEBSITE?
Both! It's a web app. The technologies behind apps and websites aren't so different anymore. If you add the Wordle website to your home screen, you might not even know the difference.
WHAT WORDLE APP IS EVERYONE PLAYING?
That would be the original Wordle, on the New York Times website. There are many others, and you may like those, but the experience of playing the same Wordle with everyone around the world at the same time is still at the NYT.
HOW MUCH DOES WORDLE COST? DO YOU HAVE TO PAY FOR WORDLE?
According to the New York Times, Wordle will remain free on their website for now. There is talk of the game eventually migrating to the NYT Games platform - a subscription service for $5 per month.
IS WORDLE THE SAME FOR EVERYONE?
Yes! The original Wordle game offers the same word to solve everyday to everyone around the world.
IS WORDLE DIFFICULT?
No. Wordle is considered a universally accessible word game with simple, easy-to-understand rules. It can also be played with a minimal understanding of English. That said, there is a lot of skill involved in pushing yourself to guess the word quickly and in the fewest attempts. Our Wordle Solver is designed to help you learn the advanced techniques to play the game at a high level - and not just to cheat.
CAN WORDLE REPEAT LETTERS?
Yes! There are many five-letter words in English that have repeated letters, sometimes right next to each other, and many of them are in Wordle's answer list. Our Wordle Solver is designed to account for this - being smart enough to know how green and yellow letters might still appear under specific circumstances, as well as to make sure that previous yellow letters don't repeat in spots where they shouldn't.
CAN YOU SOLVE WORDLE ON THE FIRST GUESS?
Yes! But that will be all luck, my friend. Most people can solve puzzles on the fourth or fifth guess with consistency. Our Wordle Solver employs techniques to reduce that to three or four guesses on average. Playing skillfully on top of using our Solver can reduce that average even further. Using our solver can teach you how to do this on your own, as well.
---
OTHER GAMES LIKE WORDLE
Our Wordle Solver Pro can also be used to play these other games similar to Wordle.
hello wordl: For when you can't get enough Wordle in a single day. Hello Wordl offers unlimited Wordle with keyboard support and harder levels.
Word Tactics (iOS): If Wordle were a game of telephone, it would be Word Tactics. Players pass around Wordle puzzles and take turns making guesses. A multiplayer word finder game.
Quordle: Solve four Wordle puzzles at the same time. Your one guess applies to all four puzzles. Be smart with your yellow letter usage (and use our solver!) to get all four answers within nine guesses instead of five.