How To Play Words of Wonders
Step 1
Observe the letters in your circle and think of words that can be made with them.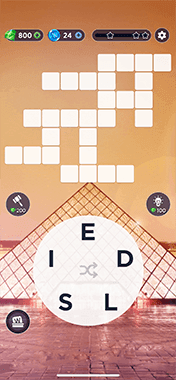 Step 2
Drag your finger across the letters, connecting them in order, to spell a word.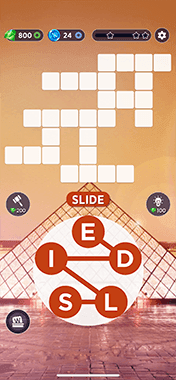 Step 3
If the word is valid, it will move to the board. You can use the board to see letters that are in other words.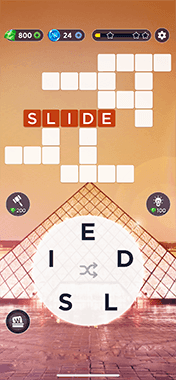 Step 4
Remember to try shuffling the letters around if you can't find words. Then fill out the rest of the board.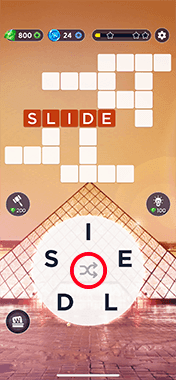 Words of Wonders FAQs
Here are answers to some of the most frequently asked questions for Words of Wonder.
What is Words of Wonders?
Words of Wonders is a fun crossword game where you try to find all the words that are missing on the board. Instead of the typical gameplay where you have a list of hints and you have to guess the words, this game presents you with letters and all words on the board are made up of those levels. As you fill out the board, finding the missing words becomes slightly easier because you can see the letter location of the words you're still missing.
How do I play Words of Wonders?
Playing Words of Wonders is pretty simple. You have a circle of letters at the bottom of your screen and a board at the top half of the screen. Think of a word to play from the letters you have been presented and drag your finger from the first letter, to the next, and so on to complete the word. When you lift your finger up, if the word is valid, the game will put it on the board. Repeat this process until you fill the entire board.
Does Words of Wonders repeat words?
Yes and no. Words of Wonders will not have the same word twice on the same level. However, if you move to a different level, words from previous levels could appear again. Some levels will even have a wide variety of the words be similar to a previous level you may have complete with only a few minor differences.
Is Words of Wonders free?
Yes! Words of Wonders is complete free-to-play with optional in-app purchases to unlock things like powerups, gems, and making the game ad-free. These purchases go directly to supporting the developer of the game. The game is available on both Google Play and the App Store.
About our Words of Wonders Cheat Tool
Words of Wonders is a popular crossword game developed by Fugo. With an incredibly large number of levels, this is a game that can keep your attention for quite an extended period of time.
Words of Wonders changes the typical definition of what a "crossword" is. Instead of presenting you with an empty board and a list of hints for each spot, this game presents you with a circle of letters and all words on the board are made with letters from that circle.
Many of the levels in this game have a word, if not multiple words, that use all the letters available to you. Trying to find and use these words first can be a good strategy for laying letters down on the board to potentially help you find some others.
This game also offers a daily puzzle to keep something new coming to the table every day, in case you manage to beat the several thousand levels. However, you do get rewards for completing so many daily puzzles, so it's worth making sure you complete it every day if you can.
There are also a few powerups in this game to help you solve puzzles you may be stuck on. There's a Lightbulb Hint that reveals a random letter on the board. There's a Hammer which reveals a single letter on the board of your choosing. There's also a firework that reveals 2 random letters on the board. These can be helpful when trying to figure out those missing words you can't think of.
On top of finding all the words the level is working for, you may find words that are real words, but aren't on the board. These go towards your "Bonus" word pool. Filling up this pool rewards you with gems over time, which you can spend powerups.
You also have a profile in this game that you can edit. You can change your name that's displayed and your profile picture. Signing in with Facebook lets you use your Facebook profile image as an option as well. Your profile lets you see things like how many daily puzzles you've completed, achievements from tournaments and races, and other things like what level you're on.
To use our Words of Wonders Answers tool, simply enter the level number that you're on in our input field at the top of this page and we'll bring you to a page with the answers for it.
Words of Wonders changes the levels in the game after opening the game once when connected to the internet. If you do this, the levels on our site may not be accurate.
If the words presented aren't accurate, try out our Word Unscrambler tool that lets you enter the letters you have and we'll present you a list of words that contain those letters.