Using Our Word Finder
Our Word Finder is here to be your favorite generalized word unscrambler. You can use this as a Scrabble word finder, a Words With Friends word finder, a Word Wars word finder, or any other word game you might be playing. Regardless of the reason you may be using it, we're here to unscramble any letters you give us and tell you what words you can play with them.
Using our Word Finder is simple. You tell us what letters you have and we'll tell you what words to play. We also find words that start with, end with, or contain specific letters if you want us to. Our solver then unscrambles your letters to make words that you can play.
We also have support for blank tiles. These tiles may be worth 0 points when you play words with them, but that doesn't mean you can't use them to help you create high quality words to score you a bunch of points. We make sure to highlight which letters in a word use the wildcard so you know exactly where to place it in your word.
See below for more details on how to use our specific word finders.
Using Our Advanced Word Finder
The advanced "line solver" allows you to find words while adding DL, DW, TL, or TW spaces on the board. The answers you get will reflect the correct score including bonuses. For example, take the following image: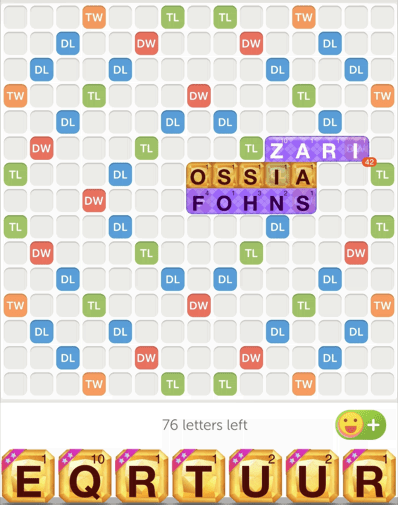 First, enter your rack letters. In this case, it would be EQRTUUR. Then, consider the word ZIN on the board. If you want to play a crossword off of that, go ahead and enter that into the line input.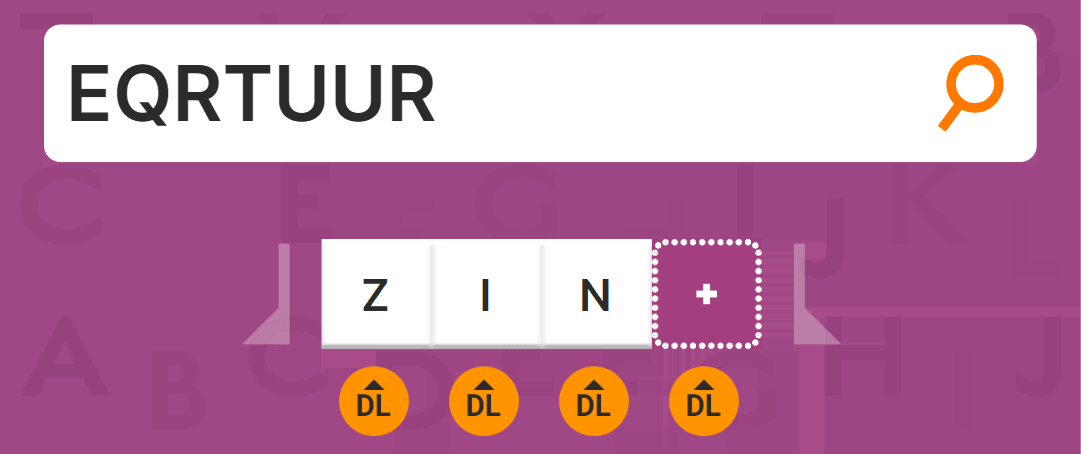 Now looking at the screenshot again, following the word is a Double Letter spot, so we can add a space to the end and press the DL button below it.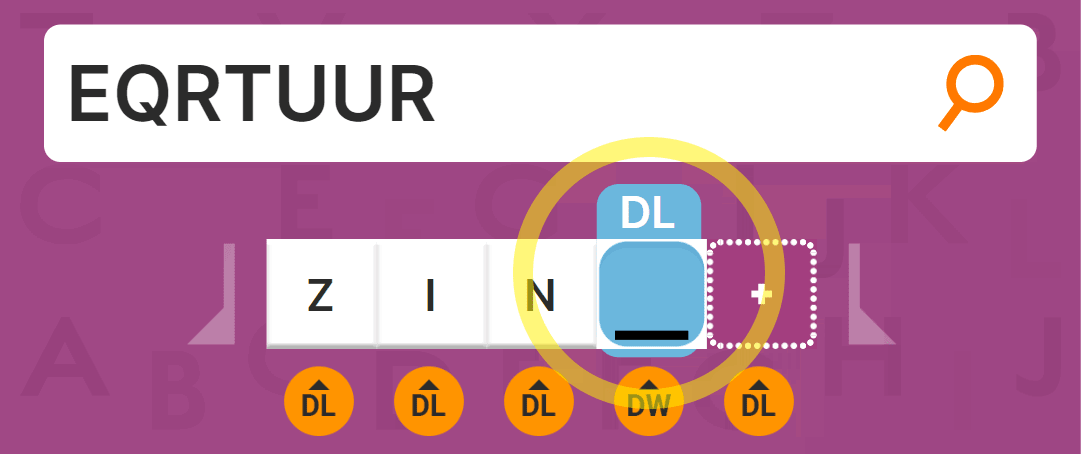 Now, if I want the words presented to me to only start with ZIN, I can press on the bookend to the left of the letters.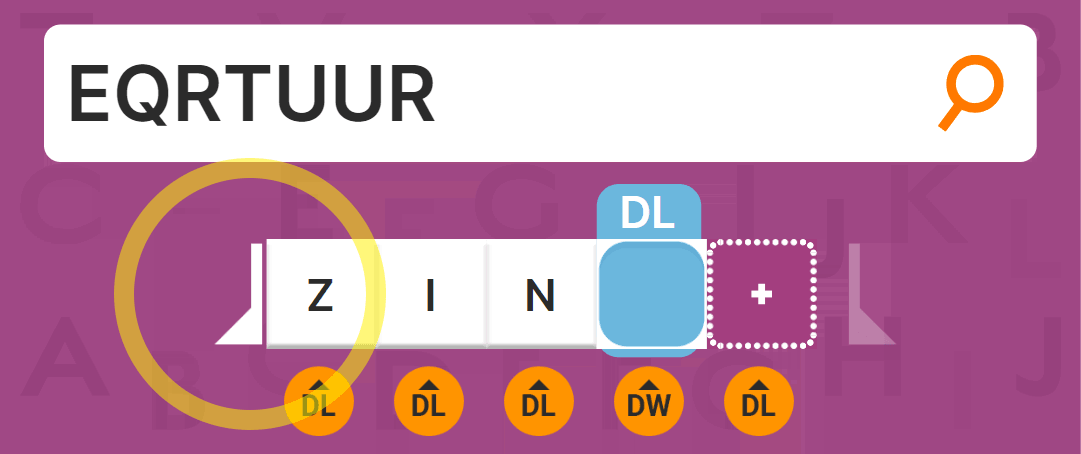 Searching like this presents me with a list of words that use the letters in my rack, and only shows me words that begin with the letters ZIN. When accounting for the score of words, it will now also double the score of the next tile after the N.
Using Our Basic Word Finder
The basic word finder is a familiar input form that you may already be used to using. All you need to do is enter your rack letters and press Search. We'll then present you a list of words that you can play with those letters. We also have some advanced options you can use to get better results.
Our advanced word finder options include the ability to select which games you're playing, the length of the word you want, and which letters your word starts with, contains, or ends with.
First, I enter my rack letters as EQRTUUR.
Looking at the "SO" toward the left side of the letters on the board, going down, I can use that as an anchor point for my words.
Entering "SO" into the "STARTS WITH" field will present me with a list of words that begin with "SO" and use the letters on my rack. For example, one of the presented words "SOURER".
Entering "SO" into the "CONTAINS" field will present me with a list of words that have "SO" in the word somewhere while using the letters on my rack. One word I could play on the list of presented words could be "RESORT".
Entering "SO" into the "ENDS WITH" field will present me with a list of words that end with the letters "SO". Using the letters on my rack, I am presented with the word "QUESO" as a word to play.
Games We Support
Words With Friends
Our Words With Friends word finder is present when you make your search with Words With Friends selected as your game. When you do this, we'll only display words that come directly out of the Words With Friends dictionary.
If you haven't played Words With Friends yet, but enjoy playing Scrabble, then you should definitely give this game a try. It's one of the most popular games that is played just like Scrabble. It's available on both iOS and Android.
Our tool works as a great Words With Friends cheat tool. So go ahead and use it while you play to help you get that edge against your friends and show them who the best player is!
Scrabble / Scrabble Go
Our Scrabble word finder is present when you make your search with Scrabble selected as your game. When you do this, we'll only display words that come directly out of the official Scrabble dictionary.
Scrabble is the renowned game we all know and love. Scrabble Go is the mobile version of the game available on iOS and Android. If you've never played Scrabble before, it's a fun, multiplayer word game where you are given random letters on tiles and you play the tiles together to form words. Once the first turn is made, subsequent turns are required to be connected to the original word, creating somewhat of a crossword.
Our tool, like Words With Friends, works equally as great as a Scrabble cheat tool. If you're trying to form words but can't figure out where to play your tiles, simply use our word finder to tell you what words to play.
Interesting Facts About Scrabble
The idea of Scrabble dates all the way back to 1938. An American architect, Alfred Mosher Butts, created a game he called "Criss-Crosswords", basing it off of an earlier game of his, Lexiko. This is the earliest known version of this style of game.
In 1948, James Brunot bought the rights to Criss-Crosswords, changed a few rules of the game to simplify it a little bit, and renamed the game to Scrabble.
Although unproven, it is suspected that Scrabble's "big break" was in 1952 when Jack Straus, the president of Macy's, placed a large order of copies of the game for his store shortly after playing the game on a vacation.
In 1984, Scrabble was a daytime game show on NBC. It ran until March of 1990. They had a second short run in June of 1993.
Scrabble was inducted into the National Toy Hall of Fame in 2004.
Other Games We Support
In addition to Words With Friends and Scrabble, we also support the following games by using their specific dictionaries:
Wordfeud
Word Chums
Word Domination
Word Wars
Wordzee
You can also use this tool for more general purposes by using "ANY GAME" as the option when searching. This uses all of our dictionaries together to find words that are in any of them.
More on Word Cheats
Like our word unscramble tool? Check out some of our other games and tools!
Word Generator
Word Lists (including different length letter words)